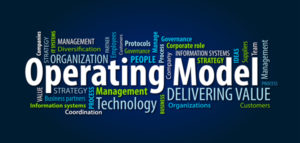 It is widely understood that there is no one single solution for the ideal operating model for a particular firm. There will always be constraints such as existing IT systems and interfaces that need to be retained and these can sometimes limit the options available for building the Target Operating Model.
Depending on the current state there may be several options available for the future state:
Full outsourcing of the selected business function, perhaps with data flowing to and from other systems that need to be retained in-house e.g. a CRM / KYC system
Partial outsourcing of more granular business functions e.g. outsourcing client reporting or reconciliations whilst retaining other middle and back office functions
System implementation(s). Moving from proprietary or legacy third party system(s) to a new system(s), perhaps encompassing the functionality of several incumbent systems
Various hybrid models of the above, incorporating best-of-breed solutions wherever possible
As with all strategic initiatives it is vitally important to consider and plan for the impact on staff, business processes and procedures and infrastructure. It is not uncommon for major initiatives to include moving premises or major infrastructure works within existing premises. These tasks can often have a long lead time and can sometimes result in significant costs being incurred which need to be taken into account during the planning phase
There can be many drivers for reviewing the current operating model and striving to move to an improved future state, these can include:
Business acquisition or merger
Sale of a business or de-merger
The establishment of a new business or new business line, for example, brought about by a change of business strategy
Perceived weaknesses in the current operating model such as lack of scalability, operational inefficiencies, high levels of risk, poor client service etc.
Our consultants have a great deal of real world experience in helping organisations to build new operating models, we are practitioners and not just theorists. As well as designing future state operating models our consultants have worked with clients to deliver them as well. Some examples of the target operating models that our consultants have worked on include:
A Global Fund Manager
A mid-tier Private Bank
An Ultra High Net Worth Wealth Manager
A Robo Adviser
A Wealth Management Third Party Administrator (TPA)
A Wealth Manager seeking to centralise operations across several business lines
As part of any initiative it is important to build an implementation roadmap for the journey ahead. Depending on the size of the organisation concerned moving to a new operating model can often take several years. Such major initiatives should ideally be done in small but agile steps and deliver benefits throughout the journey.
Our consultants have worked closely with several firms to help them to build out implementation roadmaps and to help firms to understand the costs, benefits, timelines and sequence of the steps needed to get from the current state to the new Target Operating Model.
We'd be pleased to discuss how we can help you to design and deliver your new Target Operating Model.
Case Study – Mid-Tier Wealth Manager
Our client had written their 5 year business plan and engaged us to advise on whether their current systems and procedures would be appropriate for a business three times the size.
We conducted an audit across the whole business: front office; middle office; back office; compliance; risk; and IT), following this we produced detailed workflow diagrams for every business process within the Operating Model. The processes were then graded Red/Amber/Green to show the current state of the organisation.
We then used the "RAG" map and modelled the changes and impact of the 3x growth principle. This gave an informed indication of when and why each of the business processes would move from a green to amber to red status.
Case Study – European Retail Bank
We were engaged to assist this systemically important bank to select an Order Management and Post-trade Compliance system to support the needs of its Treasury and Custody businesses.
We followed our well proven system selection methodologies to:
Gather requirements
Produce the future state Operating Models
Prepare, issue and score a Request for Proposal (RFP)
Plan and organise due diligence workshops with the short-listed vendor
Assist with commercial negotiations
Our assignment was then extended to manage the programme to implement the system and to work with the bank's selected service provider to outsource the middle and back office operations for the Custody business.